The Trust established close links with the Silent Wings Museum (SWM) in Lubbock Texas USA, and an agreement was made to exchange aircraft components to allow the SWM to build a Horsa glider and to allow the Trust to add a CG-4A Waco assault glider to the collection at Shawbury.

The Waco arrived at Shawbury on Thursday 17 February 2005, and the task of restoring it to display condition started. The team of volunteers working on the Waco are highly motivated, have a wide range of skills and are always on the lookout for more volunteers to help them with the challenging task of restoration. Although the team have a comprehensive set of plans on microfilm, finding the right plan at the right time has been another challenge in itself! Often, the vital detail is missing and 'reverse engineering' is required to make the part fit, or just to establish how that part works.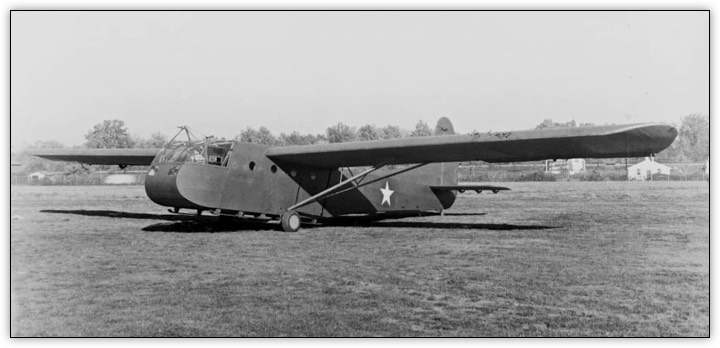 Above: Period picture of a Waco CG-4A Assault Glider
In World War two, American glider pilots were trained at Lubbock, Texas. The City of Lubbock donated US$3M for the construction of a new Silent Wings Museum at Lubbock, and US$600,000 per year to run it. The new museum was opened in October 2002.

The American 17th, 82nd and 101st Airborne Divisions used about 350 British Horsa's on operations in Europe. The Horsa had a much greater load carrying capacity than the American Waco. The Silent Wings Museum intends to build a Horsa and as as part of a Trans-Atlantic exchange, they have supplied us with Waco parts in exchange for Horsa sub-assemblies that we have constructed for them. The Waco will form a vital element of our Memorial, to illustrate British airborne operations at Sicily and in the Chindit operations behind Japanese lines in the Burma campaign.
The Waco is packed at the Silent Wings Museum
The Waco arrives at Shawbury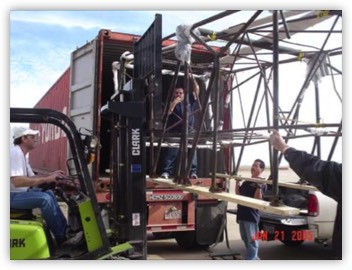 The fuselage being loaded into a container
Compare this to the picture at the top of the page
Above: A volunteer working on the new-build Waco wing at Shawbury in 2012