Recovery of the Wreckage of Operation Freshman Horsa DP349
In September 2004, a 5 man team consisting of 4 serving RAF personnel and a Norwegian military historian, conducted a successful expedition to Norway to recover the wreckage of Horsa DP349. DP349 which crashed near Fyljesdalen to the north-east of Stavanger in the early hours of 20th November 1942. This aircraft was one of 2 Horsa aircraft and Halifax tug combinations involved in a daring attack on the heavy water plant at Rjukan. Heavy water was an essential part of the German nuclear programme, and was required for the production of an atomic bomb. Operation Freshman did not succeed, as both gliders and one Halifax tug crashed. The survivors from the glider crash landings were executed on the direct orders of Hitler. The crew of the Halifax died when it crashed near Helleland.

The remains of the Horsa were recovered with the full co-operation of the Norwegian armed forces and with help from the local community. Although this aircraft was the subject of an earlier expedition in 1985, significant wreckage was found, with approximately 300 items being recovered. The remains of the altimeter, cockpit perspex, and clear vision panel were found, along with metal and woodwork from all parts of the aircraft. Wing and fuselage plywood covering, complete with original paint and markings were donated by the owners of the land where DP349 crashed. The plywood had been used as roofing on a shed.
Above: An exciting find, the altimeter case
Above: Wreckage soon start to appear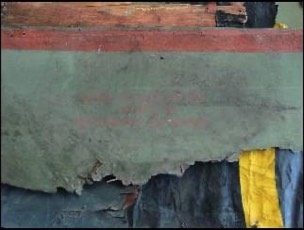 Above: Pieces of the glider's wooden skin
All the items recovered will be preserved and displayed as a memorial to those who took part in this daring, but tragic operation. It will also tell the story of the subsequent operation by Norwegian commando troops, who destroyed the heavy water production facilities, and supplies of heavy water. A full list of all those who helped to make this expedition a success will appear later.
Above: Air Ministry Form 78 for Horsa DP349. The form was used to record the allocation of an aircraft to a unit
Click on the images below to view the recovered artifacts and the Expedition gallery